About Gayle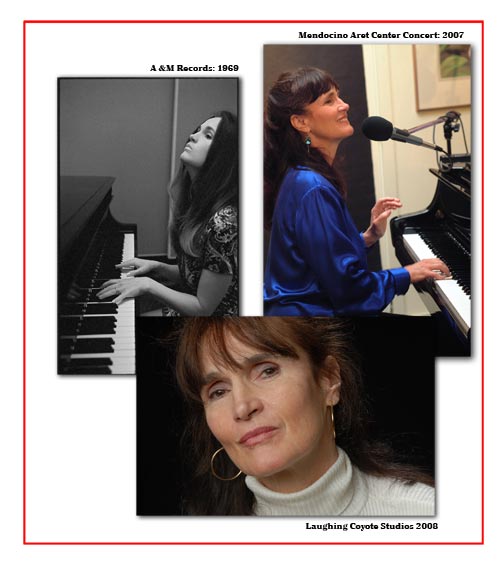 At nineteen Gayle Caldwell wore a black-lace gown to sing in Carnegie Hall with the Roger Wagner Chorale. Then went on to play tambourine and sing her lil` heart out as an original member of the famed New Christy Minstrels , recording six albums with the group which received a Grammy Award. "With the Christies," she remembers, "I immediately learned to sing goin` rather than going."
Following this and with Jackie, her New Christy Minstrel singing partner, Jackie and Gayle, recorded for Capital Records and were featured on almost every television musical special and go-go show around during the 60`s.
"We were even featured on two very! B movies, Wild on the Beach, and Wild Wild Winter. They weren't very wild," she laughs. "Once we shivered in bikinis while skiing down a Lake Tahoe slope mouthing one of our prerecorded records."
After a brief stint playing "Rebecca of Donnybrook Farm'" on the popular Beverly Hillbillies TV show, she then devoted herself to her real passion: song-writing.
A classically-trained pianist, and with her varied and vast professional singing experience, Gayle has composed songs recorded by some of the greats: Frank Sinatra( who scored a hit with "Cycles," which has since become a classic); Nancy Wilson, Astrud Gilberto, Eddie Arnold, Henry Mancini, Rickie Lee Jones....even then-teen idol Donny Osmund.
During that chapter in life she recorded her first album, "Celebration of Life," for A&M Records.
Now Gayle has completed her first independent CD, "All Is One." She plays all piano and sings all vocals throughout. Nine of the songs are her compositions; the others are her arrangements of old favorites.
Recorded at Laughing Coyote Studios in the hills above Ukiah, California (Gayle presently lives on the Mendocino Coast), she is delighted with the result.
"In my den I've posted a New Yorker magazine cartoon which especially speaks to me. It pictures two horses standing in profile, face to face. One has a stubborn, irritated stance, while the other, perfectly relaxed, says, `Really, only you can tell yourself to giddyup.'"